Obama in France : Live Report (2)
15.58 P.M

Still waiting...
The plane landed more than a quarter of an hour ago, and yet, nothing !

The plane is here ; the photographs are getting ready. Everybody is excited...
But he is still invisible...

What is he doing inside the plane ? ? What is he waiting for ?
French reporters are getting a bit nervous... They don't really know what to say...
They show us again and again the pictures of Obama in Berlin yesterday, speaking of a real "triumph" : more than 200,000 people attended... Incredible ! Magic ! Still the same old propaganda...

An interesting piece of news : the French president was interviewed this morning by the French newspaper Le Figaro, and declared : "Barack and I are good friends. I've always known that he was going to be the Democatic nominee, contrary to what my advisers told me. I knew Hillary Clinton did not have much chance of winning against Barack" !
I'm sure Hillary will be very pleased to learn that...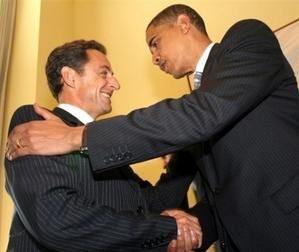 Sarkozy said : "C'est mon copain" (We're good friends / He is my pal) !!!