Obama in France : Live Report (5)
17.02 p.m.

Barack and Nicolas : what a wonderful photo ! Unforgettable moment...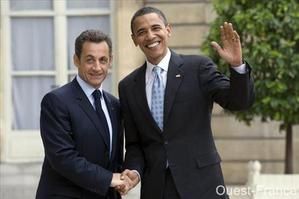 The car entered the yard of the Elysée. Nicolas was waiting for him, under the porch, as a president traditionally does while expecting another head of state or government. BO went out of the car. He walked a few steps...
And, Nicolas WENT DOWN THE STEPS to greet him : according to the French protocol, this has got a special significance.
It means he considers BO as a president, not as a candidate !

There were reporters, cameramen, photographs everywhere! Dozens of them, everywhere !
When Mc Cain came a few months ago, I am not even sure he was shown as he arrived : if I remember well, the only pictures that could be seen on TV were the scenes of his departure from the Elysée. Nobody really cared...

Such unfair, unequal treatment between the two candidates is not normal...

When Barack and Nicolas paused for the photographs, what was striking was the height difference : Nicolas looked like a little boy besides Barack, the basketball champion ! Barack suddenly seemed very happy : he was probably thinking of the postcard he was sending to the American voters : "See how the French president loves me. He says I am one of his good friends, one of his pals. So why don't you trust me" ?

Now, they are meeting in private : don't know if Carla will be here. Oh, but maybe you don't know Carla ? She is Carla Bruni, the president's wife, an ex-model. He is so proud of her : he will probably be willing to "show" her to Barack : she is so beautiful ! What a pity Michelle is not accompanying him...

Outside the Elysée, what is really surprising is to see that Barack is not attracting a lot of fans. I'm a little disappointed (no, in fact, I'm relieved !) to see that the French have probably preferred to go away for the week-end, as the weather is really very hot today : everybody has gone to the beach ! Sorry, Barack !