Obama in France ? A flop !
200,000 people in Berlin ; about 50 in Paris !

When Barack Obama left the Elysée tonight, only a handful of fans were waiting outside the building to see him go away.
If we compare this figure with that of yesterday's attendance in Berlin for the great show, we realize that Barack's visit to France was anything but a success.

This impression is confirmed by the first reports published or made by the French media : in general, French journalists have less confidence today in Barack Obama today than they had yesterday, before his arrival. As I said in a previous article entitled "Thursday Night Fever", the impression after Berlin was that the trip was a triumph, that Barack was a great man, bound to be elected president. Who could stop now ?

After seeing him (and listening to him) more closely today, the mood is changing...

First, no cheering crowds here. As I wrote in the afternoon, it seems that French people were more preoccupied with the beginning of their week-end (or summer holiday) than with the arrival of the big star. Outside the Elysée, the gathering was not impressive : the police forces were not very busy : there was no hysteria to control !

Secondly, all the comments that were made afterwards on French radios or TV channels were not very enthusiastic. Yes, Obama has got a lot of charisma, he is a likeable person, but when we hear him, what he says really lacks substance. It is visible he is young, he lacks experience, he does not master the topics he is asked to speak about, contrary to Sarkozy. Now it is more easy to understand why American people do not trust him.
What's more, his speech in Berlin yesterday was full of clichés : maybe inspiring for the youth, but not a concrete program to reassure worried Americans about their purchasing power, their future. Last but not least, he has changed his opinion on a number of topics, so we may wonder who the real Obama is ; etc... etc...

Finally, the impression that he was ready to leave after the conference, the shortness of the visit here compared to the more than 24 hours spent in Berlin (and that will also be spent in London), all this has in some way offended French people, who, as everybody knows, are quite touchy...

To conclude, France will not be Obama's best memory when he thinks about his European tour...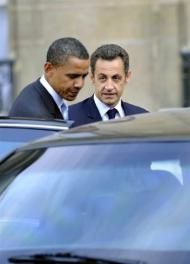 Good bye Mr Obama !
Look at the expression on his face... A little sad and frustrated, isn't he ?