All our articles wil now be published in French, and in English, so that our American friends and around the world may understand everything that's happening here, and be presented with a French vision of the American presidential election.

_____________________________________________________________________________________________
Meanwhile, Hillary ...

Everybody must have been wondering for a while : what have Hillary and Bill been doing while Barack Obama was busy visiting the world ?
Well, the answer is simple : far from the limelight and the cheering of big crowds, they have gone back to work !
Because, as everybody knows, Bill and Hillary, contrary to the "Berlin beginner", have always been hard-workers !

Hillary has gone back to do her job in the Senate, as it is no time for a holiday yet, and the upper chamber continues to pass laws important for the country. Not everybody can afford to skip classes, except maybe a well-known senator from Illinois.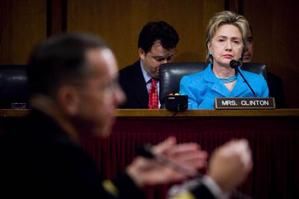 As for Bill, as usual, he has been doing a great job for his Foundation, showing that a former president can be more helpful in the world than a presumptive candidate : "deeds, not words", could be his piece of advice to Obama !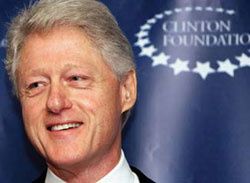 However, even if we all know that both have a very busy timetable, we cannot help wondering if this absence from the campaign trail is not revealing of the state of the relationship between this irreconcilable trio : Hillary, Bill, and Barack.
Contrary to what the Democratic leaders keep saying, "unity" is not the main characteristic of their party at the moment. Shall we dare say : "Party Unity, My A..." ? Nobody can seriously deny that there are still divisions and wounds that seem impossible to heal.
Not very surprising if one remembers the way Bill Clinton was treated during the campaign, not only by the media, ("Shame on You" !) but also by the Obama camp who managed to portray him as a racist : that was incredibly cheeky, but it worked !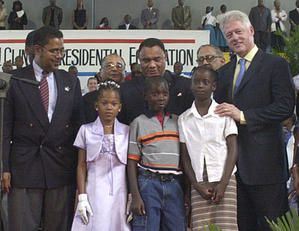 Today, CNN has just revealed that Hillary Clinton plans to campaign hard for Obama in August, and to "embark on extensive travel" for him. What an astounding piece of news ! According to her former campaign chairman, Terry McAuliffe, she hasn't been able to do anything before, because she had a lot of work in the Senate. But now that her job as a senator is going to end with the summer holiday, she will be more available to "do anything she can to help Barack Obama become the next president."

But this statement was made quite early today, a few hours before another big piece of news : Hillary will not be Obama's choice for Vice president ! According to the New York Times, his team has never seriously considered the option.

Let's bet she will be very happy to learn that...
Maybe she may decide to leave on holiday for several weeks after all...