An incredible thing has happened : Michelle Obama has just paid a tribute to Hillary Clinton !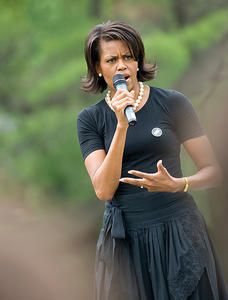 Cheeky Michelle has struck again : she will do anything she can to try to court Hillary's women supporters. Here is what she declared yesterday :
"My husband is a better candidate because of her. My daughters will think of themselves differently because of her. All of our children, our girls, will believe in the possibility of something bigger because of her," she said. "She has been nothing but gracious and open and warm and generous in this effort."
http://www.chicagotribune.com/news/nationworld/chi-michelle-obamajul29,0,1911323.story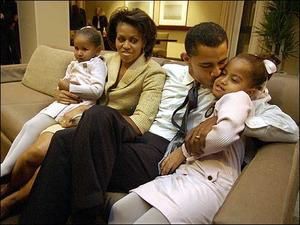 No, that's not a joke ! These words were actually pronounced ! How far are those people ready to go ?
After systematically denigrating Hillary's candidacy throughout the primary campaign, Michelle has suddenly realized that not only she, but her daughters too, are Hillary's adoring fans. She has come to understand how great a candidate Hillary was : "generous" ; "warm" ; "gracious" : why hasn't she used these adjectives before ?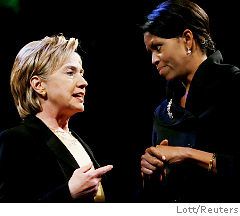 She speaks about American "girls" who will probably learn a lot from Hillary's candidacy : but she forgets to say that American girls will be appalled to see the level of sexism reached by the primary campaign, if they study it a little more closely. Yes, it's true : a woman has never gone so far in a presidential election, but at what price ?
Constantly humiliated and mocked, and very often by the Obama camp themselves, denigrated with the complicity of the media : this is the kind of respect Michelle is referring to today ; this is the kind of admiration she and her team have displayed.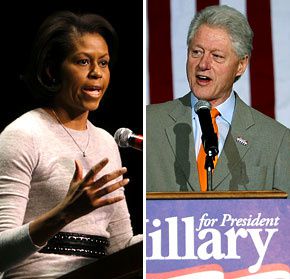 So please, Michelle, shut up !
We are fed up with your lies, your unlimited ambition. We know you are ready to do anything to reach the top, but don't count on women.
Those Hillary's supporters you're courting today will not forgive you ; will NEVER forgive you.
Because you and your husband have destroyed the dream that many women had ; you have shattered their hopes : to see a woman enter the Oval Office, to see the world change at last, thanks to a woman.

If you think Hillary's supporters are ready to trust you, you are not aware of the force of their resentment.
So, you may speak, speak, speak, and continue to praise Hillary's "generosity and grace", women will never hear you !