3 AM Text message : a coincidence ?
On Friday, Obama's supporters, who were supposed to be "the first to know" the name of his choice for vice-president, waited all day, but when they went to bed in the evening, they hadn't received anything....
Finally, Obama's text message came at about three o'clock in the morning, while they were asleep...
3 o'clock in the morning ?
Well, surely, it must be a coincidence !
Not so sure !
What about a subtle jab at Hillary Clinton ?
Everybody remembers the now famous "3 o'clock in the morning ad"...

http://fr.youtube.com/watch?v=7yr7odFUARg

So, that would be another slap in her face...
And if that's the case, let's say it is not so subtle.
Hillary Clinton's supporters are already very angry at Obama's snubbing of Hillary for the vice-presidency.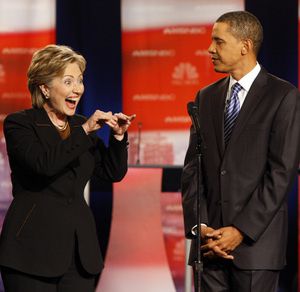 On Friday, the Obama camp clearly let know that Hillary had never been considered seriously for the job.
So the war continues...
If Obama hopes to rally the Clinton backers, he'd better reconsider his strategy !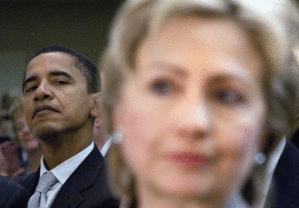 But, as the Republicans say, in a new ad released this morning, Hillary was "passed over" because she told the truth. And the truth was sometimes hard to hear for the Obama camp. She denounced the multiple weaknesses of his candidacy...

18 million votes for her, and still she is not considered seriously !
Well, surely Joe Biden must have won more ?
Not really, in fact...
He withdrew as early as January, after the first primary...
However, we can understand... It must really be difficult for Obama to forgive her...
The truth hurts : it is sometimes best left unsaid !