Sarah Palin appeared on television on Friday in her most important televised interview so far.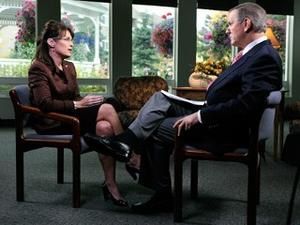 Republican vice presidential nominee Sarah Palin, Alaska's governor and Sen. John McCain's running mate, sits down for a series of exclusive interviews with ABC News' Charlie Gibson, anchor of "World News".

She talked about a lot of topics, including the candidacy of Hillary Clinton and Obama's mistake, according to her, not to choose Hillary as his running-mate :

"I think he's regretting not picking her now, I do," Palin told ABC News anchor. "What, what determination and grit, and even grace through some tough shots that were fired her way -- she handled those well."
Sarah Palin is right when she pays a tribute to Hillary for her determination and grace.
She is also right when she says Hillary had to face a lot of obstacles along her way ; she could have added that Hillary's candidacy was all the more difficult as she was not supported by her party, contrary to her. The Republican party has immediately united behind her, and the ticket she now forms with John McCain appears solid as a rock.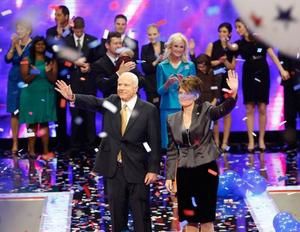 But I think Sarah Palin was wrong on one point : I do not think Obama has any regrets concerning Hillary...

This man is so arrogant that he is unable to think he has made a mistake.
He will never recognize, even when he loses in November, that Hillary should have been his choice...
He will never dare say why he has not chosen her...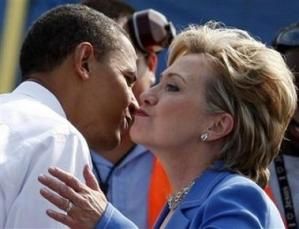 Of course, because he hates her, although he pretends the contrary ...
But also because Michelle forbade him to pick her...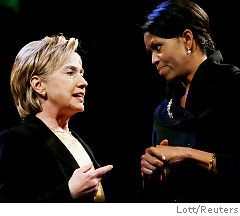 Remember the look in Michelle's eyes while Hillary and Bill were speaking in Denver ?

In any case, Sarah Palin has expressed the point of view of many women : Hillary's candidacy has been a remarkable historical achievement. She was close to victory. Now I think Sarah and Hillary should stand together to inflict to Obama the most humiliating defeat ever seen in a presidential election...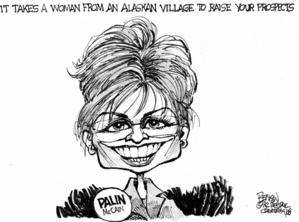 And on November the fourth, in the evening, Sarah, Hillary, and all women will celebrate this great moment together...