"Obama girls" ? Ridiculous !
Version anglaise ; version française à paraître
Barack Obama has just asked a "super team" of women to help him win the women's vote, which will be one of the keys to this year's presidential election.

They call themselves the Obama Girls, and they're about to land in this campaign.
But let's precise immediately : they have nothing to do with the "old Obama girl", a YouTube singing sensation.
Instead, they are an array of prominent, powerful Democratic women., led by Senator Claire McCaskill of Missouri and Kansas Governor Kathleen Sebelius, of House majority leader Nancy Pelosi.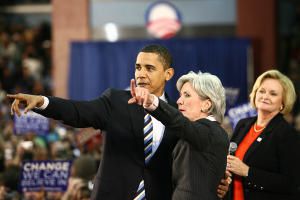 Here is the message they have been required to repeat again and again throughout the country :

"John McCain says the fundamentals of our American economy are strong," "American women know better."
Their mantra will include equal pay for equal work and expanding health insurance for children, or Protecting Social Security.

The "War for women" that is to say the attempt by each political party to capture the women's vote is becoming more and more intense, and Republicans are not ceding any ground in what has become one of the most aggressive fronts in the race for the White House.
The McCain campaign thinks that the Alaska governor's charismatic, working-mom, I'm-not-from-Washington persona will seduce women in both parties and those who consider themselves as Independents.
"The Democratic Party has historically tried to hold women hostage by talking to them only about classic women's issues: reproductive rights, using scare tactics on Roe v. Wade," said McCain adviser Carly Fiorina. "Our approach is to talk to women as the leader in their families and in the community. All issues are women's issues."
McCain, too, has some help. Several Republican congresswomen are part of the campaign's "truth squad," formed to defend Palin from attacks on her record.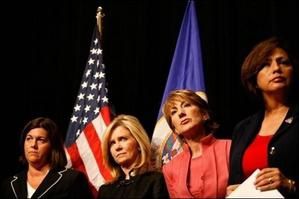 The battle should be intense. Both campaigns are buying airtime on "Oprah" and other TV shows with large female followings.

Women account for more than half of all voters and have favored Democrats in the last four presidential elections. But Palin has energized the GOP, and recent polls have been encouraging to McCain.
The latest Newsweek poll gave McCain a 16-point lead among white women. In July, he led by only five.
However, I've got a question for these "Obama girls" : do they know that their "hero" who promotes "equal pay for equal work", one of the feminists' slogan in the 60s, is not even able to apply this rule to his own employees ? He pays women less than men for the same job.


Recently, an analysis of his Senate staff has shown that women are outnumbered and out-paid by men.
That is in contrast to Republican presidential candidate John McCain's Senate office, where women, for the most part, out-rank and are paid more than men.
On average, women working in Obama's Senate office were paid at least $6,000 below the average man working for the Illinois senator. That's according to data calculated from the Report of the Secretary of the Senate, which covered the six-month period ending Sept. 30, 2007. Of the five people in Obama's Senate office who were paid $100,000 or more on an annual basis, only one -- Obama's administrative manager -- was a woman.
The average pay for the 33 men on Obama's staff (who earned more than $23,000, the lowest annual salary paid for non-intern employees) was $59,207. The average pay for the 31 women on Obama's staff who earned more than $23,000 per year was $48,729.91. (The average pay for all 36 male employees on Obama's staff was $55,962; and the average pay for all 31 female employees was $48,729. The report indicated that Obama had only one paid intern during the period, who was a male.)
McCain, an Arizona senator, employed a total of 69 people during the reporting period ending in the fall of 2007, but 23 of them were interns. Of his non-intern employees, 30 were women and 16 were men. After excluding interns, the average pay for the 30 women on McCain's staff was $59,104.51. The 16 non-intern males in McCain's office, by comparison, were paid an average of $56,628.83.
So when Mr Obama and his "Obama girls" assert that he is for "equal pay for equal work", we can say this is only another example of his numerous lies and constant double talk, generally not denounced by the MSM (mainstream media).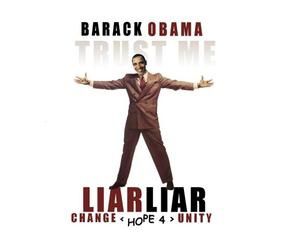 So let me tell you one thing, my dear "Obama girls" :
You are ridiculous !