Waiting for the debates...
Version anglaise ; version française en dessous
The first televised debate between John McCain and Barack Obama is due to take place on Friday night. There will be two others before the general election in November. Each debate will last one hour and a half and will of course be broadcast on television : more than 40 million T.V viewers are expected, this figure corresponding to the number of persons who watched the Convention acceptance speeches. This first debate will be dedicated to foreign policy issues.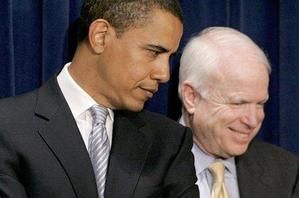 Let's remind our readers that the Republican candidate had asked for more debates. Three was the minimum, but the two candidates could have debated more if they had agreed to. The problem is that Obama refused...

This refusal is not surprising if we take into account his poor showings in previous debates, in particular those organized during the primary campaign, either versus Hillary, or with John Edwards, or even at the very beginning when a dozen Democratic candidates were still in the race.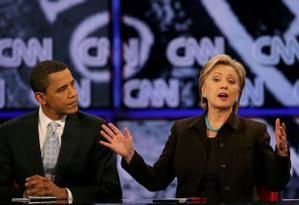 For Obama, debates are generally not a success, because it is more difficult to cheat during a debate than in a meeting. In a meeting, the public belongs to your own camp. They support you. You can say anything without running the risk of being contradicted.

However, Obama should not be too worried, for he will have the support of the MSM which so far has had a totally biased coverage of the campaign in his favour. If he does not say the truth during the debate or if his answers are vague or imprecise as they often have been, he will certainly not be asked to explain himself more in details by his interviewers, who still consider him as the Messiah that America needs... You don't contradict the Messiah !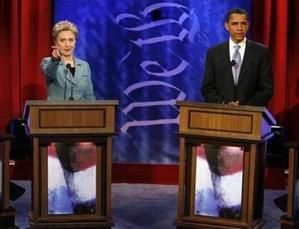 In any case, the main target of this first debate will undoubtedly be the undecided voters who are currently very numerous : millions of Americans do not know yet who they are going to vote for in less than 50 days...

Let's bet those hesitations could be an advantage for John McCain, as it has been proved that when voters are undecided until the very end, they tend to choose the candidate who reassures them most, whom they know best. And it is obvious that John McCain, not Obama, is the one who appears as reliable and trustworthy. Obama is a risk for his country : his complete inexperience of national politics is bound to deter a lot of voters from voting for him on D-day.

Who could seriously consider voting for a man who has not accomplished one Senate term yet, and who spent only one year really working in this venerable institution ?During the second year, he prepared his candidacy ; during the third, he announced he would be candidate, and during the fourth one, he campaigned against Hillary for the nomination and then against the Republicans in the general election ...

What does he know about the issues that will be at stake for the next four years ? What has he been interested in over the last few months ? Himself, himself, only.
How credible is he to settle tomorrow's problems, he who has not been able to wait for the end of his first Senate term, in order to learn a little more, to have more experience ? He was so eager to reach the top...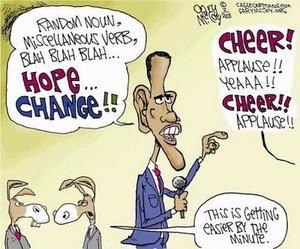 A few months ago, did he not declare that he would certainly not run for president before the end of his six year-term in the Senate ? Did he not say he was too inexperienced to think about becoming President of the USA. According to him, it would be wiser to wait !
So, what made him change his mind ?
Only ambition, of course !
Because Obama's ambition, as we all know now, has no limit...