Here is another photo taken last night at the White House, which shows how interested Obama is in the fate of his country.

As discussions are taking place, look at his face and his hands :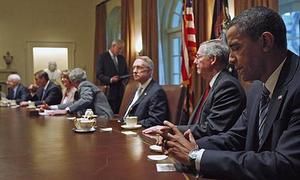 George W. Bush meets with Bicameral and Bipartisan Members of Congress to discuss a Wall Street bailout plan in the Cabinet Room at the White House

In a moment he will probably have a look at his watch...

Now we understand why he prefers to go to Mississipi to debate, rather than to Washington to try to find a solution to the financial crisis !

Bored... He looks so bored...
He seems to be wondering what he is doing here...

In fact, so are we...
Hey, Mister Obama, are you realizing - at last- that you have nothing to do in the White House ?