Out of sight, Out of mind...

Yesterday, as we wrote in our previous post, Bill Clinton greeted John McCain very warmly at his annual meeting Clinton Global Initiative. The two men hugged...

The following photo is certainly a metaphor for Clinton's distant relationship with Barack Obama : Bill is watching Obama, but the latter is only appearing on a screen, via satellite...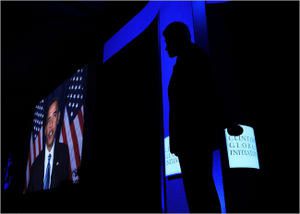 It is a very beautiful photo, isn't it ?
It perfectly sums up the Clinton / Obama story of this presidential election...