Hillary tries to convince California !
Barack Obama lost the California primary on Super Tuesday.

But Democrats know they will have to win the state in November if they want to win the general election.

So what are they doing ?

Calling Hillary again !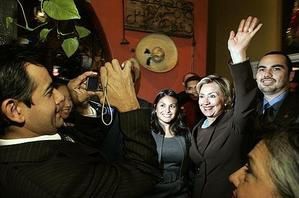 Sen. Hillary Rodham Clinton waves to volunteers and supporters upon arriving at the El Paseo Inn on Olvera Street in Los Angeles.


That is why, after leaving Texas on Friday, Hillary went to Los Angeles...

There she met with some of her most devoted supporters to urge them to back former rival Barack Obama's presidential campaign.

About 60 loyalists crowded into a Mexican restaurant on Olvera Street to see the New York senator, who beat Obama in California's Democratic primary in February. She also asked them to campaign for Democrats who are running for Congress.


"I mostly wanted to come to say thank you and to encourage you to do everything you can between now and election day to register voters, to make sure everybody knows what's at stake in this election and then to help turn everybody out," Clinton told the crowd. "I just have a feeling this is going to be a great Democratic year."

Now the problem is :
will her supporters agree to vote for a man who cheated during the caucuses and stole the primary election ?