Is Obama scared ?
We have just learnt that in a lot of states, early voting hits records.

And Barack Obama has told people not to wait but to go to vote now.
He advises people to make up their minds immediately...
He was in Tampa, in Florida only a little while ago, at a rally he himself called "Early Vote for Change Rally". He advised his audience to go and vote immediately because "anything could happen" in the final days of the campaign !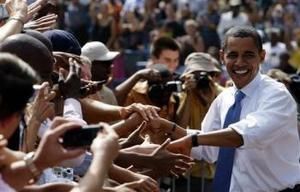 Democratic presidential candidate Sen. Barack Obama, D-Ill. waves at a rally at Legends Field in Tampa, Fla., Monday, Oct. 20, 2008. (AP Photo/Alex Brandon)


Here is his amazing statement, never seen, never heard, in any previous presidential campaign, a candidate giving people an internet address to know how to vote early, as if it were an emergency !
"In Florida, starting today, you can vote early right here, and right now. To find out how, just go to voteforchange.com. (...)
Because one thing we know is that change never comes without a fight. In the final days of campaigns, the say-anything, do-anything politics too ofter takes over. We've seen it before. And we're seeing it again today. The ugly phone calls. The misleading mail and TV ads. The careless, outrageous comments. All aimed at keeping us from working together, all aimed at stopping change."

My conclusion is that Obama and his team are pretty scared, so scared of what might happen in the next hours that they are trying to do anything to save his candidacy.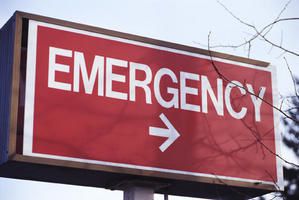 Have you seen the strange reference to "ugly phone calls" ? What does this mean, exactly ?
I've got the impression that Obama now knows that the tapes are real and he is trying to discredit them before they are released.
The only thing he can do now is trying to get as many votes as he can, because once Americans are informed, this race may well be over, thanks to Michelle ...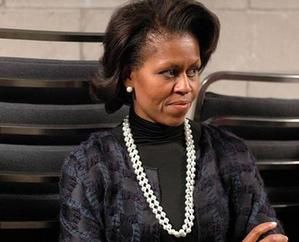 Let me tell you one thing : I think the Obama camp is in a panic...
Obama in his speech has just said that all this aims at preventing change from happening in America...

So for Mister Obama, to reveal the truth about his past, his ineligibility, and his wife's personality, is to try to prevent change in America.

Well, maybe he is right : if all his lies and his manipulation of the voters are the kind of change he wants for America, people are simply saying : "No, thanks" !