Voting has begun in California. Indeed, several States have already open centralized polling stations to avoid over-crowding on Election Day and to allow people who work or might be away on November 4th, to nonetheless vote.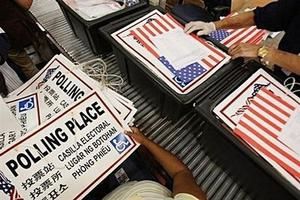 Workers at the Los Angeles County Registrar-Recorder County Elections Operations Center pack materials to be delivered to polling places into ballot boxes on October 23, 2008. Some 12 million US voters have already cast ballots ahead of the November 4 presidential election, according to early voting figures compiled by a Virginia-based university professor.(AFP/Getty Images/File/David Mcnew)



In

California

, as of this last Sunday, about 250,000 people had already voted.

And the actual results are astonishing. At least for all who still have no clue of what this election is really about or who take for truth the in-the-tank pro-Obama propaganda of the MSM.
Obama's lead is only 1,000 votes, or 0,4%.
And that in the bluest state of the nation, after eight years of disastrous Bush administration, in a campaign where the dems out fund the reps by 5 to 1 and while the MSM and the polls feed 24/7 that the game is up.
WTF?
Actually those results are not at all surprising. They were even predictable:
In California, with $250,000.00 you get a s%&* hole in a so-so neighborhood. $150,000.00 dollars, or as Biden just said the threshold above which your taxes will go up under Obama, are real average income.
In California, Hispanic and Asian population are large. They immigrated in the States because of economic hardship or political oppression in their native countries.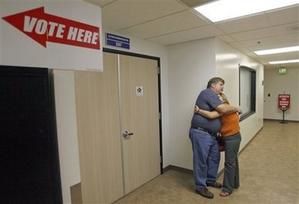 Newly naturalized US citizen Elena Friend, hugs her husband Larry Friend before casting her vote for the fist time at the Los Angeles County Registrar-Recorder/County Clerk headquarters in Norwalk, Calif., Thursday Oct. 23, 2008. Elena Friend, originally form Peru, celebrated her birthday with a new US citizenship and casting her early vote. Voters in every state can now cast ballots through early voting or absentee voting programs.(AP Photo/Damian Dovarganes)


Tito the builder does not look kindly upon politics of wealth redistribution. His parents or he started from nothing. They work from sunrise to sunset cleaning pools or mowing laws. They left their native country to better themselves and give their children a better life then theirs. They accumulated some. They worked hard for it. They don't want to see it go.
And Chung or Maria has cold sweats thinking of a cult presidency. They know all about charismatic populist leaders. They fled it. In makeshift rafts attacked by pirates or marching for days in mountainous terrain to cross borders at night. They remember the enthusiast speeches in front of enormous crowds, they paid dearly for it.
And of course, California is home to the Bradley Effect. Bradley was the black mayor candidate in San Francisco who the polls, and even the exit ones, always gave winning by several points and who always lost. People would lie about their vote not to arise racism suspicions.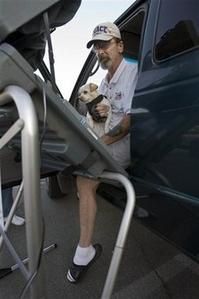 Disabled veteran Jeffrey Carlton and his dog Zach take advantage of drive thru voting outside the Orange County Registrar of Voters office in Santa Ana, Calif., Monday, Oct. 20, 2008.


In California, there is nothing new about racial tensions between the black segment of the population and the other ethnicities. They are still very much in actuality. They are still firmly entrenched. They will come in full play against Obama.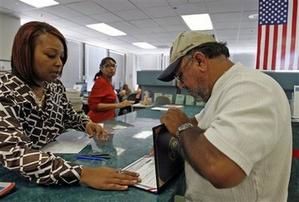 Newly-naturalized U.S. citizen Julio Baltodano, right, 58, originally from Nicaragua, is asked to show his citizenship certificate to cast his vote early at the Los Angeles County Registrar-Recorder/County Clerk headquarters in Norwalk, Calif. on Thursday Oct. 23, 2008. AP Photo/Damian Dovarganes)





And if California tends pink, what about the rest of the South-West?
Hah, and as a footnote: As of today, polls are still predicting Obama by several points in California.
Don't hold your breath!!!!




ARTICLE WRITTEN BY : FRENCH NAIL