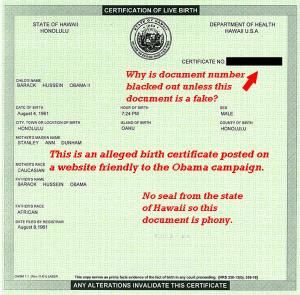 My previous post was about the rumor swelling about Obama's birth certificate.

Since I wrote it, there have been dramatic developments...


The governor of Hawaii has ordered Sen. Barack Obama's birth certificate to be sealed !


Republican Governor Linda Lingle, the state's first female governor, allegedly placed Mr. Obama's birth certificate under seal and instructed the state's Department of Health to make sure no one in the press obtains access to the original document under any circumstances.

This is a revelation made by the Internet news site, WorldNet Daily :



"WND tried to access a copy of Mr. Obama's birth certificate, but was denied by the governor's office, which cited a law protecting citizens against identity theft. An anonymous source told the news site that the Hawaii Department of Health would immediately release Mr. Obama's original birth certificate, provided Mr. Obama that would request the document's release.

Gov. Lingle's order, made when Mr. Obama visited Hawaii to visit his ailing grandmother, would last until Nov. 5, the day after the election."



So it means Mister Obama can continue to lie about his birth until the day after the election.

So it means that if he is elected next Tuesday, voters could well learn on Wednesday that they have voted for a man who is not "natural born", so who in fact is ineligible !

And what will happen next ?

America will be facing an unprecedented constitutional crisis...

Is that really what the country needs ?