Obama needs the Clintons to understand...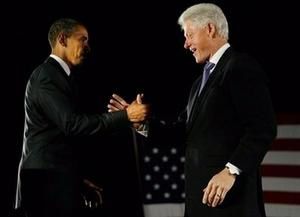 Bill Clinton and Obama yesterday, in Orlando, Florida : two good friends, really ?



Yesterday, Bill Clinton was with Barack Obama in Florida for a common appearance at a rally which was the first since the campaign began.

Apparently, the two men showed an image of unity and friendship, and we may have the impression that the wounds have healed.

However, if we examine Bill Clinton's words seriously, we may realize that Bill Clinton continues to have doubts about Obama's qualifications to be president.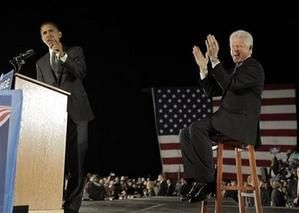 Applauding Barack or mocking him ?


Bill Clinton was speaking about Obama's reaction to the financial crisis, and here is what he said :


"You know what he [Obama] did?"
"First he took a little heat for not saying much. I knew what he was doing. He talked to his advisers – he talked to my economic advisers, he called Hillary. He called me. He called Warren Buffet. He called all those people, you know why? Because he knew it was complicated and before he said anything he wanted to understand."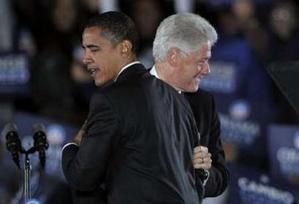 Not so sure that Obama really appreciated Bill's words : look at his face !




"If we have not learned anything we have learned that we need a president that wants to understand and who can understand"

So, if I analyze Bill's words well :

Obama has needed a lot of people in order to understand the financial crisis.

He is not able to understand by himself.

He needs Bill and Hillary to understand...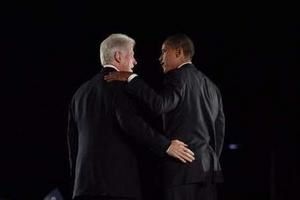 UPDATE :

FOX NEWS ARTICLE JUST PUBLISHED :


Bill Clinton said Obama is an "executer" , and he is someone who chooses his words carefully !


"Clinton also said in Florida Wednesday night that Obama has proved himself by running a campaign that "involves so many people," adding: "He has executed this campaign in a way that is different from modern and forward thinking -- something no one else ever could have done. He can be the chief executor of good intentions as president."
It's not clear what he meant, since he pronounced the word 'executer.' "
Read more here :
http://hillary.meilleur.choix.qu-obama.over-blog.com/pages/Where_is_Bill_Ou_est_passe_Bill_Clinton_-714296.html