"Trick or treat" : Four days to go...
Tonight, American children will proceed from house to house in Halloween costumes with the traditional question :
"Trick or treat ?"...

But for their parents, in only four days, the choice will be much more difficult to make...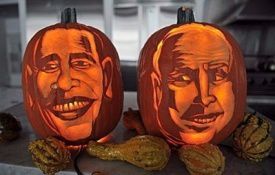 According to the latest polls, the race is tied again, which is quite unexpected, as everybody predicted a sure Obama's victory only a few days ago.

And it is certainly not the attitude of the MSM, still mute on many scandals involving the Democratic candidate, that has enabled McCain to be the "come-back kid" lately.

Finally, McCain's strategy may have proved to be a winning one : he has remained quite moderate in his attacks, mentioning ACORN, Ayers and Khalidi, but never saying one word about the issue of Obama's ineligibility.

John McCain was probably afraid that voters may react negatively, and he preferred to be prudent : we will know if he has been right on Tuesday night.

Maybe his choice to concentrate on the economy and to portray Obama as a "socialist" has been sufficient to frighten voters, after all...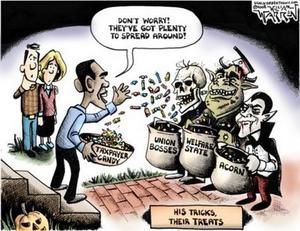 In any case, tonight is Halloween, and if I were an American voter, I would really try to look behind Obama's mask and to see what he has been hiding...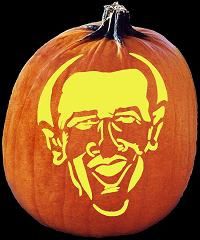 And ... I would be so scared...

... that it would probably dissuade me from voting for him !