"The man for the moment" ?
When they wake up this Sunday morning, a lot of fans of Hillary Clinton will probably feel betrayed again when they read the New York Press.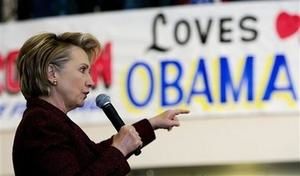 Sen. Hillary Rodham Clinton, D-N.Y., campaigns for Democratic presidential candidate Sen. Barack Obama, D-Ill., on Friday, Oct. 31, 2008 at the Ohio University-Southern campus in Ironton, Ohio .(AP Photo/Randy Snyder)


Hillary Clinton makes the case for her former rival in a daily newspaper, The New York Daily News, in an editorial entitled "The Man for the Moment" !

(to read the article simply click here : http://hillary.meilleur.choix.qu-obama.over-blog.com/pages/The_Man_for_the_Moment_by_Hillary_Clinton-721389.html )

Of course, it sounds like a betrayal, once more. This was my first reaction.

But then, on second thoughts, when I re-read the text very carefully, that Hillary is like Bill : she supports Obama, but not once does she clearly write that he will be a great leader.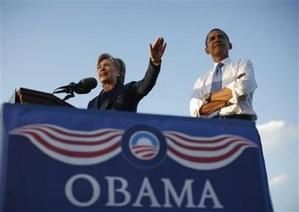 Democratic presidential nominee Senator Barack Obama and Senator Hillary Clinton attend a campaign rally in Orlando, Florida, October 20, 2008.(Jim Young/Reuters)



Bill Clinton said this week that Obama is a man who will "execute" : Hillary seems to adopt the same point of view.
Her editorial is in fact a strong criticism against the Republican policies, and a tribute paid to the Democratic ones, especially Bill Clinton's.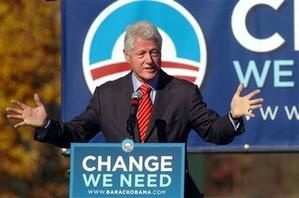 Former President Bill Clinton speaks during a rally for Democratic presidential candidate, Sen. Barack Obama, D-Ill., in Beckley, W.Va., on Saturday, Nov. 1, 2008. (AP Photo/Jon C. Hancock)



She praises the measures taken by the Clinton administration, and says that Obama will continue them, but NOTHING ELSE !


And the important thing for her (this is how she concludes her speech) is HEALTH CARE.

She says that Obama will sign a law establishing universal coverage :


" I can't wait to stand on the South Lawn of the White House, when President Obama signs into law health care for every American - no exception, no excuses.

Do you see what it means ?

It means SHE will be the one who will introduce this law.

She will do what she did not manage to do in 1993, during her husband's presidency...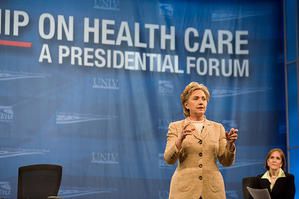 Hillary : health care is the big goal in her life. So she hopes Obama will enable her to fulfil her dream...
Las Vegas Health Care Presidential Forum


And that is why she asserts that Barack Obama is "the Man for the Moment" !