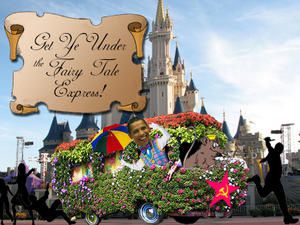 This site is now going to close its doors.

Barack Obama has just been elected president of the USA, and we respect the choice made by our American friends.

But for us, nothing has changed.
On the contrary.
We are still convinced that we have been right to assert for months that Obama is not a good choice, neither for America nor for the world.

That is why we will not fall in line...

As we said yesterday, it is now necessary to put to the fore the real personality of the man who will be sworn in as the 44th president of the United States on the 20th of January 2009.
We will have to remind everybody how he managed to get there, his political career, the choices he made, the friends he had / he has, his legislative record, etc...


And above all, we will have to watch his first decisions very closely, as people will soon realize the whole thing is a fraud : Barack Obama is very good at speeches, but it requires more than mere words to govern a country like the USA, especially in the current domestic and international contexts. Words cannot solve major crises.


So, let's now leave for Obamaland, and let's examine the political role that Bill and Hillary Clinton are going to play ; how opposition is getting organized : on the one hand, the Republicans will have to rebuild their party with new faces, new ideas, new propositions ; and on the other hand, all the Democrats who voted against Obama will have to find a way to make their voices be heard.

The NoObama coalition, which is composed of the Pumas and other groups, is certainly not going to give up.
This coalition must now become a real grassroots, activist movement, and has to develop itself as a new political force. It will be a difficult task, because, as we have seen throughout this campaign, you have a lot of difficulties in attracting the media's attention if you are not an Obama fan.
But it does not mean it is an impossible task.

Resistance to Obama must get organized.

No doubt : in future days, weeks, and months, it will be very interesting to watch what happens on the political scene in America.

That is the reason why we have decided to create a new blog.
So let's meet in this new place very soon : our new address will appear on this site in a few hours, or days.
Our new blog is being built.

And thanks again for living these unforgettable moments with us for weeks.
Now, meet me in Obamaland.