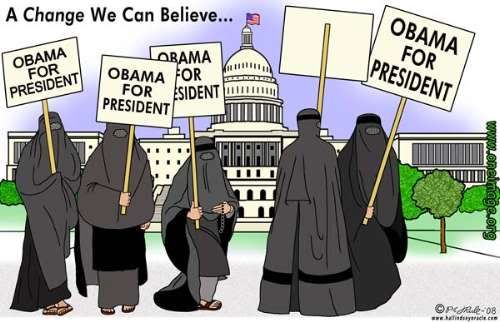 Obama , le changement auquel on croit…
La nouvelle conseillère musulmane d'Obama sous le feu des critiques pour avoir rencontré des organisations islamiques américaines qui entretiennent des liens avec le Hamas et d'autres groupes extrémistes islamistes, et ce quelques mois à peine après la démission de son prédécesseur pour ses liens avec des musulmans radicaux. La campagne d'Obama admet, mais veut minimiser.
NBC news révèle qu'une nouvelle directrice de la campagne d'Obama (chargée de sensibilisation de la communauté musulmane) a participé à une réunion qui s'est tenue mi-septembre où étaient présents plusieurs activistes musulmans controversés. La campagne Obama admet maintenant que c'était une erreur de jugement, mais se défend en affirmant que cette responsable, qui est musulmane, n'aurait pas assisté à cette réunion si elle avait connu au préalable la liste complète des participants.
"Est-ce qu'un employé de la campagne électorale aurait assisté s'ils avaient eu connaissance de la liste complète des participants ? Non," dit Ben LaBolt, porte-parole d'Obama dans une déclaration à NBC.
Le 15 Septembre la directrice de campagne, responsable de la sensibilisation des musulmans, Minha Husaini parle à un petit groupe de dirigeants musulmans supporters potentiels d'Obama dans un hôtel de Springfield, en Virginie, selon plusieurs participants présent à la réunion. Deux autres proches d'Obama affiliés au Parti Démocrate s'étaient joints à Mme Husaini et avaient pris la parole devant l'assemblée. …

Un des participants à la réunion était Mahdi Bray de la Muslim American Sociéty, ont rapporté plusieurs des participants. Le site internet du MAS décrit M. Bray comme un imam "activiste pour la défense des droits civils et des droits de l'homme." les critique de M. Bray disent qu'il est connu pour défendre les terroristes. Une vidéo de Bray lors d'un rassemblement en 2000, par exemple, dans lequel on peut le voir poing en l'air, défendant les groupes terroristes Hamas et du Hezbollah.
Mazen Asbahi se trouvait aussi au meeting. Il était coordinateur de campagne pour Obama, mais avait subitement démissionné en Aout dernier, suite à un article dans le Wall Street Journal qui le questionnait sur son implication dans un obscure fond d'investissement islamique accusé de financer le terrorisme, et avec divers groupe islamistes.

Egalement présent, Nihad Awad, directeur exécutif de CAIR (Council on American-Islamic Relations), groupe de défense des droits civiles des musulmans, cité comme complice dans le procés contre la Holy Land foundation qui finançait le Hamas. Dans ses interviews, le porte-Parole de CAIR Ibrahim Hooper condamne le terrorisme mais refuse toujours de condamner nommément le Hamas et le Hezbollah lorsqu'on lui le demande.

SOURCE / BIVOUAC.COM

___________________________________________

OBAMA's LINKS WITH EXTREMIST ISLAM
10/21/2008
Obama Would Fail Security Clearance
By Daniel Pipes, For The Bulletin
With Colin Powell now repeating the lie that Barack Obama has "always been a Christian," despite new information further confirming Mr. Obama's Muslim childhood (such as the Indonesian school registration listing him as Muslim), one watches with dismay as the Democratic candidate manages to hide the truth on this issue.

Instead, then, let us review a related subject - Mr. Obama's connections and even indebtedness, throughout his career, to extremist Islam. Specifically, he has longstanding, if indirect ties to two institutions, the Council on American-Islamic Relations (CAIR), listed by the U.S. government in 2007 as an unindicted co-conspirator in a Hamas-funding trial; and the Nation of Islam (NoI), condemned by the Anti-Defamation League for its "consistent record of racism and anti-Semitism."

First, Mr. Obama's ties to Islamists:

The Khalid al-Mansour connection: According to former Manhattan Borough president Percy Sutton, Mr. Mansour "was raising money for" Mr. Obama's expenses at Harvard Law School. Mr. Mansour, a black American (né Don Warden), became adviser to Saudi Prince Al-Walid bin Talal, CAIR's largest individual donor. Mr. Mansour holds standard Islamist views: He absolves the Islamist government in Sudan of sponsoring slavery, he denies a Jewish tie to Jerusalem, and he wrote a booklet titled "Americans Beware! The Zionist Plot Against S. Arabia." (Both Mr. Obama and Mr. Mansour deny Mr. Sutton's account.)

The Kenny Gamble (also known as Luqman Abdul-Haqq) connection: Mr. Gamble, a once-prominent pop music producer, cut the ribbon to the Obama campaign headquarters housed in a South Philadelphia building he owns. Mr. Gamble is an Islamist who buys large swaths of real estate in Philadelphia to create a Muslim-only residential area. Also, as the self-styled "amir" of the United Muslim Movement, he has many links to Islamist organizations, including CAIR and the Muslim Alliance in North America. (MANA's "amir" is Siraj Wahhaj, an unindicted co-conspirator in the 1993 World Trade Center bombing.)

The Mazen Asbahi connection: The Obama campaign's first Muslim outreach coordinator resigned after it came to light that he had served on the board of a subsidiary of the Saudi-sponsored North American Islamic Trust, with Jamal Said, another unindicted co-conspirator in the 2007 Hamas funding trial. Mr. Asbahi has ties to CAIR's Chicago and Detroit offices, to the Islamic Society of North America, yet another unindicted co-conspirator in the Hamas funding trial, and to other Islamist organizations.

The Minha Husaini connection: The campaign's second Muslim outreach coordinator has an Islamist background, having served as an intern in the Muslim Public Service Network. Immediately upon her appointment by Mr. Obama, she met with a group of about 30 Muslims including such notorious figures as CAIR's Nihad Awad; the Muslim American Society's Mahdi Bray, who has publicly supported the Hamas and Hezbollah terrorist groups; and Johari Abdul Malik of the Dar Al-Hijrah Mosque in Falls Church, Va., who has advised American Muslims: "You can blow up bridges, but you cannot kill people who are innocent on their way to work."

Second, Mr. Obama's ties to the Nation of Islam (NoI):

Mr. Obama's long-time donor and ally Antoin "Tony" Rezko partnered for nearly three decades with Jabir Herbert Muhammad, a son of NoI leader Elijah Muhammad, and says he gave Jabir and his family "millions of dollars over the years." Mr. Rezko also served as executive director of the Muhammad Ali Foundation, a rogue organization that, without Mr. Ali's permission, exploited the name of this CAIR awardee.

Rev. Jeremiah Wright, Mr. Obama's esteemed pastor for 20 years, came out of a Nation background, recently he accepted protection from an NoI security detail, and has praised Louis Farrakhan, the NoI's leader, as one of the "giants of the African American religious experience." Rev. Wright's church celebrated Minister Farrakhan for his having "truly epitomized greatness."

Minister Farrakhan himself endorsed Mr. Obama, calling him "the hope of the entire world," "one who can lift America from her fall," and even "the Messiah."

That Obama's biography touches so frequently on such unsavory organizations as CAIR and the Nation of Islam should give pause. How many of politicians have a single tie to either group, much less seven of them? John McCain charitably calls Mr. Obama "a person you do not have to be scared [of] as president of the United States," but Mr. Obama's multiple links to anti-Americans and subversives mean he would fail the standard security clearance process for Federal employees.

Islamic aggression represents America's strategic enemy; Mr. Obama's many insalubrious connections raise grave doubts about his fitness to serve as America's commander in chief.

Daniel Pipes (www.DanielPipes.org) is director of the Middle East Forum and Taube distinguished visiting fellow at the Hoover Institution of Stanford University. © 2008 by Daniel Pipes. All rights reserved.
SOURCE / THE BULLETIN PHILADELPHIA



SATURDAY OCTOBER 18TH
Take a look at this by corsi
DISPATCH FROM NAIROBI
Kenyan insiders say Obama was part of takeover strategy
Used 2006 'fact-finding' trip to criticize sitting president
——————————————————————————–
Posted: October 16, 2008
12:10 am Eastern
By Jerome R. Corsi
© 2008 WorldNetDaily
NEW YORK – Former members of Kenyan opposition leader Raila Odinga's Orange Democratic Movement party have told WND when Democratic presidential candidateBarack Obama visited Kenya on a "fact-finding" trip in 2006, he was carrying out part of a secret election strategy that also included exploiting divisive tribal tensions and ultimately taking advantage of rioting that left 1,000 dead.
The strategy document outlining the campaign earlier was referenced in "The Obama Nation" but could not be fully authenticated at the time of publication.
Now, however, research conducted in Kenya by WND has confirmed the authenticity of the strategy memo, which was prepared by a five-person Odinga "core strategy team" led by Peter A. Nyongo, the secretary general of Odinga's Orange Democratic Movement party, with the assistance of four key Odinga ODM strategists, including Odinga speechwriter Adams Oloo.
It was reported to have been smuggled out of ODM offices by Christian former-ODM officials.
WND's sources in Kenya included several top ex-ODM officials who played key roles in Odinga's 2007 presidential campaign, only to turn on Odinga when the candidate's memorandum of understanding with Sheik Abdullahi Abdi, the chairman of the National Muslim Leaders Forum, proved to be real.
In that Aug. 27, 2007, document, Odinga promises within six months of becoming president he would "rewrite the Constitution of Kenya to recognize Shariah as the only true law sanctioned by the Holy Quran for Muslim declared religions."
Raila Odinga
The former ODM sources in Kenya supported the authenticity of the campaign strategy by noting Odinga did conduct a campaign against President Mwai Kibaki by charging his administration with corruption, advancing anti-Kibaki sentiments aimed at inciting Kenyan youth to vote for Odinga and ultimately calling for protest by Odinga's fellow Luo tribal members. Kibaki is of the majority Kikuyu tribe.
The "protests" turned violent, and in January and February a brutal wave of Odinga-supporting, machete-wielding Luo mobs killed an estimated 1,000 members of the Kikuyu tribe, displaced over 350,000 Kenyans from their homes and destroyed some 800 Christian churches, all without a single mosque being damaged.
The sources reported Odinga simply was following the script his policy strategists laid out for him in the Nyongo strategy document.
The strategy document remains available at this link.
Obama's involvement amounted to a coordination with Odinga on the campaign, according to the sources.
The general tone of the strategy was to encourage the Odinga campaign to claim to be leading in the presidential race regardless of the actual numbers and be prepared to proclaim victory even if Odinga lost.
The officials poll results showed he lost to the incumbent by about 250,000 votes.
The plan called for "opportunities" for Odinga to pursue, including efforts to "exploit anti-Kikuyu statements," with a determination to "leverage the vulnerability of the Kibaki administration responses to corruption" and confront Kibaki with "a powerful anti-corruption message."
The final strategy the document calls for is exploiting ethnic tensions and using "violence as a last resort" to gain power. Among the 1,000 killed, reports say, were several dozen women and children who died when the Christian church in which they had sought refuge from marauding Muslim gangs was burned down around them.
The ex-ODM sources said Odinga followed the strategy script exactly, including his ultimate use of tribal conflict to gain power.
While Odinga never had explicitly demanded violence, the former ODM sources said Odinga used "code language" to his Luo backers to convey the instructions to burn Kikuyu homes, rape women and kill men.
Obama's part in the strategy was to openly attack the Kibaki administration in meetings where Odinga was in a very public attendance at Obama's side, the sources said.
WND previously reported a news report by a Chicago WBBM-TV news team of Obama's 2006 trip to Kenya. The report showed the senator undermining the Kibaki government in a speech delivered to the editorial staff at the Nairobi offices of the Standard, a prominent Nairobi newspaper, and at a separate appearance in which Obama delivered a public speech at Nairobi University of Nairobi, two hours after the appearance at the Standard.
The ex-ODM sources argued Obama and Odinga together were implementing in a coordinated fashion the strategy the Nyongo-led policy advisers had crafted in the internal strategy document.
The two politicians remained in touch through that time period, as WND also has published a report referencing a copy of a private Dec. 22, 2006, e-mail in which Obama personally informed Odinga that "all our correspondence [be] handled by Mr. Mark Lippert."
Lippert, at that time, was serving as a foreign policy advisor in Obama's U.S. Senate office in Washington, D.C.
The Washington Times also reported Odinga visited Obama during three trips the Kenyan politician made to the U.S. in 2004, 2005 and 2006.
The Times also reported Obama sent his Senate office foreign policy adviser, Lippert, to Kenya in early 2006 to coordinate and arrange for Obama's Senate "fact-finding" visit to Kenya later that year.
As further evidence that Obama and Odinga were coordinating to implement the campaign strategy outlined in the Nyongo-authored document, the ex-ODM sources in Kenya argued that Obama maintained almost daily cell phone contact with Odinga as the post-election tribal violence was unfolding in Kenya, even as Obama was campaigning in the final days of the New Hampshire Democratic Party primary, as has been reported by the BBC.
The ex-ODM sources said Obama worked after the election with former U.N. Secretary General Kofi Annan and U.S. Secretary of State Condoleezza Rice to argue a position should be created to allow Odinga to share head of state as a compromise to end the violence.
The ex-ODM sources said during the post-election violence Obama did not call on Odinga to drop his charges of voter fraud or to withdraw completely from his efforts to become head of state as a strategy to calm his Luo tribe supporters and bring a halt to the violence.
WND confirmed in Kenya that at one point Annan and Rice actually pressured Kenyan Vice President Kolonzo to step down from his position to bring the Luo-mob protest violence to an end by appointing Odinga vice president so he could assume the nation's second highest political office.
When Kolonzo refused to step down, Annan and Rice proposed the Odinga-inspired plan to appoint him as prime minister, effectively allowing Odinga to share the head-of-state position with Kibaki, a solution that was adopted.
Get the book that started it all – Jerome Corsi's "The Obama Nation," personally autographed – for only $4.95, available today, but only from WND!
WND also reported on the authenticity of an Odinga campaign internal finance memorandum documenting that Obama arranged for Odinga to receive in his U.S. trips nearly $1 million in campaign contributions from Obama fund-raisers and donors to assist Odinga in his 2007 presidential campaign in Africa.
The finance memo, prepared by Shakeel Shabbir, the head of Odinga's campaign finance accounting section, also detailed that among the 72 individuals and organizations that contributed money to Odinga's 2007 presidential run in Kenya was Saif el-Islam Gadhafi, the second oldest sun of Libyan dictator Muammar Gadhafi, who also was listed as contributing nearly $1 million to Odinga's campaign.
The Shabbir document lists the Obama-generated campaign contributions from the U.S. as having been donated by "Friends of Senator B.O."
Obama's campaign "Fight the Smears" website and a posting by Ben Smith at Politico.com have questioned the authenticity of the Obama-to-Odinga Dec. 22, 2006, e-mail by arguing the e-mails "appear not to have been written by a native English speaker," without addressing a second similar e-mail WND published, that should not occasion any linguistic quibbles.
Moreover, neither "Fight the Smears" nor the Smith posting disputed the substantive point made in the e-mails, namely that Lippert served to coordinate between Obama and Odinga while Lippert held a staff position in Obama's U.S. Senate office in Washington.
WND was unable to get a response from Obama with calls to his Washington office and Chicago campaign headquarters.
October 11, 2008
OBAMA AND KENYA
What happened to the media?
I am not trying to sound trite, but honestly I don't know whether to laugh or to cry.
What happened to our jaded media who looked for the fire when they even had a glimpse of smoke? What happened to the media who wanted every single detail of a blue dress and a naughty cigar?
As much as I thought all of the insidious coverage of that Presidential misstep was a bit much, I would take that any day over this overly-apathetic, take-any-answer-at-face-value media we are dealing with now.
Come on media. A sitting president enjoying a peaceful and prosperous eight years has a little fun with an intern, and you went after every last, salacious detail of each and every phone call and encounter.
Now in a time of war and financial meltdown, we have a relatively unknown candidate for the highest office in the land, who keeps fluffing off reports of radical associations as if he is swatting a mosquito away, and you just accept his nonsensical answers at face value.
Never would I have thought that the American media would let an unknown politician running for President get away with having "Community Organizer" as a main feature of his short resume and the seemingly endless radical connections that keep emerging.
Let's recap some of what Barack Obama seems to have skated passed the American media -- and by default -- much of the American public.
First comes the twenty-year association with a very racist, radical and politically-incorrect Reverend Wright, who is on tape ranting and raving about the American government, white people, Hillary Clinton and many American ideals. His extreme, radical bias against the American government, the American Dream and white people are clearly depicted.
Even though Obama clearly spent 20 years sitting in the pews of Reverend Wright's church and has mentioned him as his spiritual guide on several occasions, the media allowed him to escape relatively unscathed with the announcement that he is leaving his church. This appeased the media and seemed to appease the masses.
Who cares about what it says about his judgment and philosophy to have sat in his pews for 20 years and have used him as his spiritual guide? They said, "Let's get back to the issues."
Then the alternative media started wondering, "What exactly is a Community Organizer, and how does that prepare someone for presidency"? That is a great question, but the mainstream media ignored that question entirely and made it sound like he was some do-gooder who was providing community service.
Anyone at all who bothered to look into what exactly Barack Obama did as a Community Organizer would have found that he was involved with radical organizations, such as ACORN. Once it came out that ACORN is in frequent trouble for voter fraud and has been caught shaking down mortgage executives to offer bad loans to risky home buyers, his campaign manager says that he didn't work for ACORN. He worked for Project Vote.
The media just left it at that. They didn't bother to report that Project Vote has always been an ACORN affiliate project, and that Barack Obama did, in fact, serve as ACORN's attorney at least in one Motor Voter Law case. They would also have discovered that he acted as a trainer, who trained young people to be radicals.
Instead, the media ignored that he addressed ACORN's Convention recently and all of the other facts mentioned above, and let the story end with the bogus explanation about Project Vote having been his employer, not ACORN.
Early in his bid for President, it came out that Barack Obama bought property next door to his good pal, Tony Rezko, who got it for him at $300,000 under market value. Did I mention Rezko is a felon who is most likely on his way to prison for shaking down vendors who wanted to do business with the State of Illinois? I wonder where he learned that tactic? I am sure it wasn't Harvard Business School. I would bet he learned that in some Marxist textbook.
So after that connection gets swept under the rug and dismissed as John McCain's attempt to avoid the real issues, yet another radical association emerges - Bill Ayers.
This guy started a radical, anti-American, terrorist group called the Weather Underground and bombed the Capitol, the Pentagon, the New York City Police Headquarters, and the home of a Judge presiding over a trial of another radical group, the Black Panthers.
It comes out that Barack Obama launched his political career in this despicable terrorist's living room, sat on some boards with him, collaborated on education projects with him and who knows what else. I wish the media would find out what else. Since when would they let a story like this go?
I'll tell you when - since they decided they were in the bag for Barrack Obama.
Even though Obama and his advisors keep changing their stories about his connection with Ayers, which would indicate to anyone that there is a lie hidden within the spin, the media has not challenged one single statement that has come from Obama's camp.
There is a chance that a man with a history of radical, Anti-American connections will be our next President, and we are going to treat these reports of his connections as a McCain campaign ploy to distract the public from the real issues.
I cannot think of an issue more pressing than the political agenda and theoretical basis of our next President and Commander-in-Chief. Can you? Radicalism and Socialism have defined him and might soon define our country if the media doesn't wake up and report the facts so that the American people can see things as they really are - not as they are packaged.
Barack Obama has packaged himself as a Patriotic American looking to serve the people and help the "middle class." Frighteningly, what he might really be is an Anti-American, Socialist, who is looking to own the "middle class."
You think I am exaggerating? Thanks to the mainstream media, you might not know that Barack Obama sought after and won the New Party's endorsement in 1996.
The New Party is a Socialist, Left-Wing faction of the Democratic Party who disdained Clinton's middle-of-the-road policies. Barack Obama is now running as a Centrist, despite all of the evidence, including his voting record, that shows that he is as Left-Wing as they come.
Like I said, let's unwrap the packaging and get to the heart of this man before he takes the helm of a country in middle of two wars and a devastating economic crisis.
SOURCE : AMERICAN THINKER

__________________________________________________________________________________________
__________________________________________________________________________________________
Pourquoi Obama ne sera pas élu

par Guy Millière


Ce texte est une adaptation de la postface du tout nouveau livre de Millière : «L'Amérique et le monde après Bush». Extraits : "La candidature Obama présente des points faibles et constitue un pari risqué. Obama semblait présenter le profil idéal : un métis auquel la communauté noire pourrait s'identifier, un homme apparemment sans passé… un orateur habile au discours vague, l'incarnation de l'espoir, attirant vers lui l'électorat noir, les jeunes, la bourgeoisie bohème. Mais sur de nombreux points, le programme d'Obama est flou, voire, inquiétant. Obama est apparu d'une naïveté préoccupante en politique étrangère, et ses prises de position sur la crise géorgienne, sur l'Iran ou le Pakistan ont fait douter de son aptitude à devenir "commandant en chef". (G. Millière, revu par "Yerouchalmi").
La crise du parti démocrate
Contrairement aux apparences, le parti Démocrate est en crise. Après avoir été l'incarnation de la gauche traditionnelle, héritier de Roosevelt, il s'est voulu, à la fin des années 60, celui de la "nouvelle gauche" et de la contre-culture. Cela lui a valu une seule victoire : celle de Carter, en 1976, et une série impressionnante de défaites, interrompues seulement par les huit années Clinton, un président présenté comme l'adepte d'un recentrement.
Or, les pronostics voici un an donnaient Hillary Clinton favorite, puis les regards se tournèrent vers Obama. Un républicain, c'était évident, ne pouvait avoir de chance ! Mais Obama incarne le positionnement "nouvelle gauche", si néfaste aux Démocrates, et ne peut qu'avoir des difficultés à le changer. Aux Etats-Unis, une élection se joue toujours sur les mêmes valeurs : la réussite personnelle, la religion et la défense des idéaux américains dans le monde ; l'immense classe moyenne qui détermine les résultats finaux.
Nombre d'électeurs d'Hillary et de démocrates à l'ancienne ne voteront pas Obama parce qu'ils ne peuvent se reconnaître en lui, comme Lieberman, ancien candidat démocrate, qui a rejoint Mac Cain. De plus, il est chaque jour davantage évident que le clan Clinton envisage la défaite d'Obama pour qu'Hillary soit candidate en 2012.
Le choix d'Obama : un pari risqué
Ceux qui ont propulsé Obama sur le devant de la scène voulaient un candidat qui puisse enfin faire gagner la "nouvelle gauche". Obama semblait présenter le profil idéal d'orateur habile, apte à galvaniser les foules par un discours vague. Il a ainsi été présenté comme un homme neuf, l'incarnation de l'espoir, attirant vers lui l'électorat noir, les jeunes, la bourgeoisie bohème.
Le moment n'en est pas moins arrivé où les électeurs se sont penchés davantage sur le candidat. Sur de nombreux points, le programme d'Obama a semblé flou, voire, inquiétant. Obama est apparu d'une naïveté préoccupante en politique étrangère, et ses prises de position sur la crise géorgienne, sur l'Iran ou le Pakistan ont fait douter de son aptitude à devenir "commandant en chef".

Le "rêve américain" n'est pas celui d'Obama
Les Etats-Unis sont au centre-droit, avec le "rêve américain" et la liberté d'entreprendre. Les idéaux socialisants n'y font pas recette, l'important mouvement évangélique peut y faire basculer une élection. Judéo-chrétien (le seul), ce pays accorde une place cruciale au conflit israélo-arabe. Sur ces plans, Obama, selon les sondages, n'est pas convaincant. Pire : une fois les téléprompteurs éteints, le discours se grippe, les arguments s'épuisent et quelques formules surnagent : « espoir », « changement », « l'espoir du changement » et/ou le « changement dans l'espoir », etc.
La prestance liée aux « trucs » de prêcheur et d'hypnose collective, ne peut longtemps masquer le vide du programme, le manque d'imagination et l'illusion qu'avec des vieilles recettes, on peut inventer un avenir tout neuf.
Cela plaît aux jeunes qui n'ont pas connu les années Carter et la stagnation, mais ne peut résister à l'examen des classes moyennes qui ne tiennent pas à perdre leur emploi ni leur épargne, pour qu'elle soit gaspillée dans des programmes fumeux, dans lesquels se croisent des éoliennes et des emplois publics par tombereaux entiers.

Le pire serait à craindre !
Dans ce contexte, divers éléments de la vie d'Obama ont refait surface. Il a fréquenté pendant vingt ans l'église d'un pasteur raciste, gauchiste et antisémite, dont il vient de se séparer, un ancien terroriste, un islamiste palestinien mal repenti, ou un promoteur véreux, qui fait actuellement face à la justice. On peut s'attendre à ce que les semaines à venir voient surgir de nombreux autres cadavres dissimulés dans le placard d'un homme bien moins "neuf" qu'il semblait.
Le verdict risque fort d'être qu'Obama est beaucoup trop à gauche et inexpérimenté pour assumer une tâche aussi lourde que la présidence des Etats-Unis. Ou alors, le pire serait à craindre.

©
Guy Millière


Un petit rappel des événements : voici un historique de tous les sujets sur lesquels Barack Obama a changé d'avis au cours de ces derniers mois.

- Sur l'Iraq : très pressé de rappeler qu'il n'avait pas voté en faveur de la guerre pendant les primaires(et pour cause, il n'était pas au Sénat à cette date!) et qu'il retirerait les troupes immédiatement après son élection, depuis qu'il est le candidat du Parti, Obama est revenu sur sa promesse, en disant que finalement il faudrait un calendrier échelonné du retrait des troupes.

- Sur le programme FISA, de surveillance des citoyens pour assurer la sécurité du territoire : il s'était opposé au projet de loi l'an dernier et avait voté contre, il vient de voter pour. Rappelons que FISA est une manière détournée, sous prétexte de sécurité nationale, pour le gouvernement de restreindre les gouvernements individueles, et de mettre sur écoute n'importe qui sans avoir à se justifier.

- Sur le port d'armes, il s'est déclaré à la fois pour le respect total du 2ème amendement et en faveur de la possibilité pour le gouvernement de contrôler le port d'arme.

- Sur le financement des campagnes électorales, il vient de rejeter le financement public alors qu'il avait promis de l'accepter s'il devenait le candidat de son parti.

- Il soutient les faith-baith organizations chères au président Bush, c'est à dire toutes les associations à caractère religieux, et il approuve le choix fait par le président de soutenir financièrement ces associations, notamment en matière de lutte contre la pauvreté, ce qui est totalement contraire à ce que prône le Parti Démocrate, qui demande que ces groupes ne soient pas favorisés par rapport à d'autres associations qui luttent elles aussi contre la misère sociale.

- Il a désapprouvé la récente décision de la Cour Suprême d'interdire la peine de mort pour les violeurs d'enfants, alors qu'il se présentait comme un opposant à la peine capitale.

- Sur l'avortement, il déclare tout et son contraire, si bien que l'on ne sait plus du tout s'il est en faveur ou pas du libre choix pour les femmes.

On pourrait encore allonger la liste, et la campagne n'est pas terminée. On aura prochainement l'occasion d'annoncer de nouvelles contradictions, soyons-en sûrs !

_________________________________________________________________________________________