Cindy McCain is afraid of Obama
Cindy McCain, with her husband and Sarah Palin at a rally in Pennsylvania on Wednesday, took one of her most personal shots yet at Barack Obama.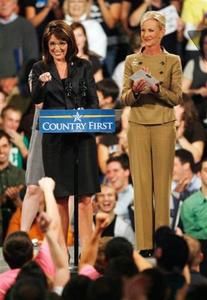 Republican vice-presidential candidate, Alaska Gov. Sarah Palin, left, points to a supporter during a rally for her and Republican presidential candidate, Sen. John McCain, R-Ariz., at Lehigh University in Bethlehem, Pa, Wednesday, Oct. 8, 2008. Standing with Palin is McCain's wife, Cindy McCain. (AP Photo/Tom Mihalek)



"The day that Sen. Obama cast a vote to not to fund my son when he was serving sent a cold chill through my body let me tell you," Cindy McCain said in introducing the GOP ticket. "I would suggest Sen. Obama change shoes with me for just one day. I suggest he take a day and go watch our men and women deploying."

The McCains have both largely avoided discussing the military service of their two sons during the campaign. Jimmy McCain, the younger of the two, is a Marine who has already served a tour in Iraq. His brother, Jack, is at Annapolis.

Cindy McCain had already criticized Obama sharply one day before, in Nashville . There, she had asseterd that the Democratic candidate had waged "the dirtiest campaign in American history"